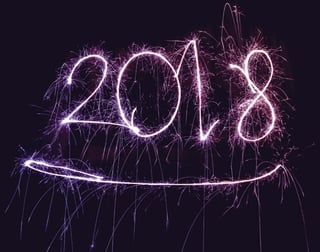 As the curtain rises on 2018, contact center managers should make resolutions to lead their operations to measurably higher levels of performance and preparedness for the future. Keep it simple or you will feel overwhelmed. Bring things down to three initiatives that correspond to our three central contact center components:
People.

Employees are probably your biggest challenge and your biggest source of value and satisfaction. Think about the fact that you will end the year without some of the people you see around you today, and with others who will be newcomers over the next twelve months. What should you do now to avoid losing the people you want to keep? And, what should you do to recruit the right kind of people to bring on board? Take a hard look at your screening processes. Be especially attentive to your training, both in-house and externally sourced. Providing key employees - - and yourself - - with some high-quality courses can boost morale and motivation, and provi
de people with the knowledge and skills they need to help you succeed. Be sure those who you send to external courses bring back a report containing the improvement ideas they feel should be implemented.



Processes.

Do a forensic investigation of the way you do things. Get a working group together and sketch out your processes from beginning to end. Use a white board and stickers, then transfer to an electronic format when complete. Determine improvements that will reduce effort and costs, or improve service.

Designate a couple of team members to focus on the

customer experience

as you go through this exercise. Have them probeand pry and pretend they are customers trying to navigate your operation. Have them critique everything keeping in mind

all

of your channels. You will probably find a trove of improvements - - and savings.





Technology.

The technology solutions available to contact centers have multiplied incredibly in the last decade. Whether you need a simple CRM system or are seeking to implement advanced AI systems, the key is to choose the technology that will help you meet your operational and budgetary goals while adhering to your core mission and strategy. Getting outside assistance and holding vendors to account are key things to consider. Be sure you have strong "key component" providers (ACD, Workforce Management / Workforce Optimization, etc.) first. Consider whether finding an all-in-one vendor, or assembling a suite of single-function solutions is best for you.
Implementing one significant project in each area is as much as most centers can handle in a year. Carefully selected and carefully deployed, these initiatives can make a huge difference.
Be sure to benchmark your operation before beginning these initiatives, so that you can identify your competitive strengths and weaknesses. Remember, "improvement initiatives" don't really improve things if they don't improve your competitive position.
Then be sure to benchmark yourself after you complete the initiatives. These before-and-after benchmark "bookends" are proof that your changes have indeed added value to your company. It is this proof that will give you credibility with your superiors, build morale amongst your colleagues, and provide you the professional satisfaction that will make you feel good about 2018.
This is truly an excellent time to plan excellence. Don't waste this opportunity. Let me know if I can be of help.
Good luck and Happy New Year!!!
Bruce Belfiore, CEO, BenchmarkPortal
---

Bruce Belfiore is Senior Research Executive and CEO of BenchmarkPortal, custodian of the world's largest database of contact center metrics. He hosts the monthly online radio show "CallTalk" and is chancellor of The College of Call Center Excellence, which provides courses for call center professionals. He has consulted for many Fortune 1000 companies, helping them to improve the strategic value, efficiency and effectiveness of their customer contact operations. He is the author of the book Benchmarking At Its Best for Contact Centers and holds bachelor's, MBA and JD degrees from Harvard University.