Information feedback is the lifeblood of continuous improvement for contact centers. However, most centers don't employ a structured approach to originating, processing and acting on feedback. In this session, guest Pam Wilson explains the 4 stages required for a feedback loop to have full efficacy. We will discuss the four stages and Pam will share how she has seen them best implemented in call center settings.


Air Date: Wednesday, August 8, 2018 - 10:00AM PT / 1:00PM ET
Host: Bruce Belfiore, CEO & Senior Research Analyst, BenchmarkPortal
Guest Speaker: Dan Handy, President of Visual Cue
Season: 9, Episode Number: 8
---
Dan Handy has spent his career merging the technology and business worlds together. He has a passion for growth and efficiencies. In the mid 90's Dan was a co-founder of FreeServers, a free web hosting site that was sold to About.com in 1999. He led the division through a turn around after the economic downturn in 2001. He joined Bluehost as the COO in 2005 and helped grow the company to 225 employees before selling the company to Endurance International Group. Post acquisition, from 2010 to 2014 Dan took over as General Manager and CEO of the Bluehost brands growing the division to 700 employees while operating at a 48% profit margin. Dan is a partner in Peak Capital, which is a real estate investment company. He is also an investor in Peak Ventures, which is an Angel Fund investing in local startups and entrepreneurs. Dan has the most recent years helping smaller companies grow and scale up.


---
CallTalk Host
Bruce Belfiore is a frequent speaker at industry events in the United States and abroad. Bruce is Chancellor of the College of Call Center Excellence, which provides certificated courses to call center professionals, and has taught the course "Call Center Management" at Purdue University. He is the author of the book Benchmarking At Its Best for Contact Centers and has written numerous research papers and best practices studies focused on contact center topics. He is a consultant to call centers in a wide variety of industries seeking to improve their results, and is noted for helping to calculate the financial impact of proposed changes. Bruce holds Bachelors, JD and MBA degrees from Harvard University.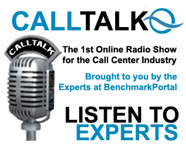 CallTalk is a monthly internet radio program for the customer service industry featuring the most innovative managers and thought leaders in the customer contact field, interviewed by BenchmarkPortal CEO, Bruce Belfiore. Broadcast monthly, directly over the Internet to your desktop, CallTalk covers hot topics that impact today's call center. CallTalk airs without the participation of vendors so that topics will be free from their influence and guided by the needs of its listeners. If you have a topic you would like us to cover, send it to CallTalk@BenchmarkPortal.com.