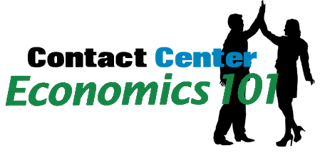 Do you know what your average cost per call is? If not, you should make the effort to compute it. It is a key metric because important decisions should take it into account, including staffing decisions.
Consider one center that had an abandon rate of 6.5%. With some discussion, research and effort, the following calculations were made:
Average cost per call: $6.34.
Average revenue per call: $93.00
Abandoned calls (annual): 123,000
Estimated lost revenue: $11,439,000
Related lost gross margin net of cost of call: $2,150,000
Most centers don't think in these terms. However, by computing the costs of staffing to handle more calls against the revenue that could be gained by reducing or eliminating abandoned calls, management came to understand that they should staff for a negligible abandon rate. Plus, they had the numbers to show financial management why they needed and deserved more resources.
From this sort of realization can come excellent discussions on how to staff, e.g.:
add more full time people to the center
add more part time people for peaks
engage an outsourcer to manage any overflow calls
consider at-home agents to staff on a more flexible basis
if you have call center "alumni" who have transferred to other parts of your company, can they be brought back into the center on occasion to help handle heavy loads
Other useful discussions can focus on how to shorten average handle times with better technology and training, and how to improve the user experience for self service (IVR, Website, Social Media), which can reduce call volumes while preserving, or enhancing, customer value.
Every manager should know his or her cost per call and related revenue per call, and then put that knowledge to work. You will be happy you did it. If you need help with the math, let us know!
"Contact Center Economics 101" articles were written and have been refreshed by Bruce Belfiore, Senior Research Executive and CEO of BenchmarkPortal (Harvard MBA) to spotlight practical opportunities for financial improvement of contact center operations.