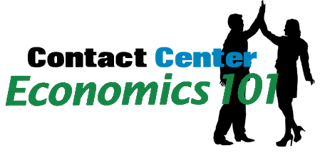 "If you chuck away too many things, you end up discovering there was value in them." This quote from Prince Charles is a warning to our sector. The customer contact industry is prone to vogues just like any other. Several years ago it was fashionable to be obsessed with average handle time (AHT), while these days increasing numbers of managers dismiss AHT as irrelevant, or even harmful. I recently participated in an industry panel in which some felt that it is definitely time to "chuck" AHT.


My feeling is that would be a mistake; there are solid economic
and
quality reasons to keep AHT as a key performance metric, at both the center and the agent levels.
We should recognize how much may be gained from benchmarking and thoughtfully analyzing the components of AHT, which are: Average Talk Time, Average Hold Time, and Average After Call Work Time.
Average Talk Time: Consider the example of a center with very high Average Talk Time compared with it industry sector. Management of the center started to listen to calls more critically. They found that, while a few agents were very efficient about call closure, most were very inefficient. Interestingly, some members of the efficient group also got high scores for caller satisfaction. By focusing on the techniques used by the successful "quick closers", management was able to create training for the rest of the agents, with the result that the center saved money while also increasing overall caller satisfaction. By shining a spotlight on call closure, they found and brought to light best practices they had not looked for before, benefitting the caller as well as the bottom line. They would not have done this were they not benchmarking their AHT metric.
Average Hold Time: Centers that suffer from high Average Hold Times compared with their peers can benefit from analyses that might point to holes in their knowledge management systems (KMS) or their escalation procedures. Astute managers can propose the implementation of new KMS and compute the monetary value of projected time savings. This computation can be used in an ROI analysis to convince senior management to fund the KMS improvement. Deep dive analysis might also lead to changes in escalation procedures, expert hub deployment, or other solutions that lead to lower hold times.
After-Call Work Time: Similarly, centers with After-Call Work Times that benchmark worse than the industry average can gather the inputs needed to show that an improved CRM system would pay for itself in terms of faster call clean-ups. For example, analysis may show that agents are wasting time cutting and pasting duplicate information into multiple applications. This might lead to purchase of middleware that brings a variety of legacy agent desktop applications together, cutting down the time agents need to complete the customer record.
These examples only scratch the surface of improvements that can flow from benchmarking and analyzing AHT as one of your key performance indicators. It is certainly true that blind squeezing of AHT can have negative effects on first call resolution, agent stress and caller satisfaction. However, there is every good reason to benchmark, track and act intelligently when it comes to this venerable metric.
Listen to Prince Charles. Don't chuck it away. Instead, discover the value in it
"Contact Center Economics 101" articles are written by Bruce Belfiore (Harvard MBA), Senior Research Executive and CEO of BenchmarkPortal to spotlight practical opportunities for financial improvement of contact center operations. This article was refreshed from one he originally published in 2013.