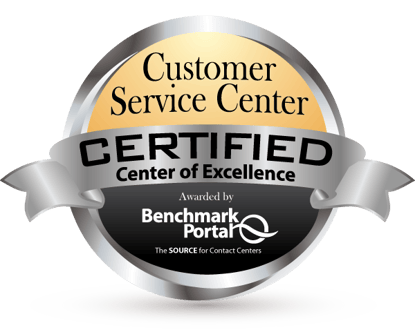 The McKesson Specialty Health Customer Care Contact Center has been certified as a Center of Excellence by BenchmarkPortal for the Third Party Logistics (3PL) Service Title/Non-Title business. This marks the first time that the Customer Care Contact Center in LaVergne, Tennessee has received certification. The Center of Excellence recognition is one of the most prestigious and coveted awards in the customer service and support industry.
BenchmarkPortal uses a rigorous benchmarking process to award the Center of Excellence designation to customer service call centers that are ranked in the top ten percent of call centers surveyed. Call centers are judged against a balanced scorecard of metrics for efficiency and effectiveness drawn from the world's largest database of quantitative data audited and validated by researchers from BenchmarkPortal. Call centers earn the award by demonstrating superior performance for both cost-related and quality-related metrics when compared to industry peers.
"We are excited about receiving this honor of distinction, demonstrating that we have achieved high levels of performance and customer satisfaction. It is particularly gratifying to be recognized by BenchmarkPortal, the leading call center research consulting organization," said Leta Gibbs, VP of Customer Care at McKesson Specialty Health. "This was a team effort, based on the success and efforts of all our internal teams, 3PL Services, pharmaceutical manufacturers and agents.";
McKesson Specialty Health supports successful pharmaceutical commercialization through third-party logistics support services. Supporting pharmaceutical manufacturer partners and key stakeholders with the careful coordination of their specialty products through the entire product life-cycle, McKesson 3PL Services provides pharmaceutical and biotech companies with a seamless service model for patient and customer ease of access. By combining McKesson's long-standing distribution services' success with pharmaceutical experience, McKesson 3PL Services help pharmaceutical manufacturers deliver products accurately and on time to hospitals, physician practices, pharmacies and medical clinics.
About McKesson Specialty Health
McKesson Specialty Health, a division of McKesson Corporation, works together with stakeholders across the healthcare delivery system to preserve and strengthen specialty care, passionately driven by the benefits it provides patients and the system as a whole. Through innovative provider, practice management, biopharma and payer solutions, McKesson Specialty Health focuses on improving the financial, operational and business health of our customers and partners so they may provide the best care to patients. At McKesson Specialty Health, we believe that we are all in this together. For more information, visit www.mckessonspecialtyhealth.com.
About Center of Excellence Certification
Contact centers and their managers who wish to implement best practices and attain world-class performance in their industry have a unique opportunity to certify their call centers. BenchmarkPortal's rigorous certification process has the advantage of referencing all performance goals to their best practice database of thousands of contact centers. Thus, contact centers will be held to performance levels that will improve their competitive position, not just force them to adhere to an arbitrary standard. Please follow the link to discover what the steps to certification are and how they will improve your center's performance. www.benchmarkportal.com/call-center-certification.
About BenchmarkPortal
Founded in 1995, BenchmarkPortal is a global leader in the contact center industry, providing benchmarking, certification, training, consulting, research and industry reports. The BenchmarkPortal team of professionals has gained international recognition for its innovative approach to best practices for the contact center indus­try. BenchmarkPortal hosts the world's largest database of contact center metrics, which is constantly being refreshed with new data. BenchmarkPortal's mission is to provide contact center managers with the tools and information that will help them optimize their efficiency and effectiveness in their customer communications. For more information on BenchmarkPortal please call 1-800-214-8929 or visit www.BenchmarkPortal.com.
Source: http://www.mckesson.com/about-mckesson/newsroom/press-releases/2017/msh-customer-care-contact-center-certified-as-a-center-of-excellence/