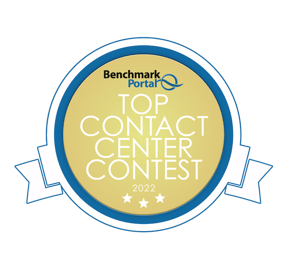 BenchmarkPortal, a leading contact center consulting services group, announces the winners of its 2022 Top Contact Centers Contest. The awards are based on contestants' performance on key operating metrics. The winners in each category had the highest statistical values for efficiency and effectiveness, as computed by BenchmarkPortal's expert formula. In addition to the overall winners, the contest includes awards for those who topped the statistical charts on specific key metrics.
"BenchmarkPortal salutes the winners of our eleventh year of competition– they are true leaders in our industry," said Bruce Belfiore, BenchmarkPortal CEO. "Our Top Contact Center Award places a contact center among the best operations in terms of quality of service and cost-efficiency. Their key metrics were benchmarked against our entire database – the largest in the world of contact center metrics. This is a great accomplishment indeed."
BenchmarkPortal notes that this competition is separate from its Contact Center of Excellence awards, which benchmark centers against others in their own industry.
The Highest Ranking Centers In The Small-Size Center (50 agents or less) Category Are:
Delta Dental of Arizona
Delta Dental of Wisconsin
Messa

The Highest Ranking Centers In The Medium-Size Center (51 to 250 agents) Category Are:
Delta Dental of Michigan, Ohio, and Indiana
Luxottica
Erie Insurance FNOL Center

The Highest Ranking Centers In The Large Center (251+ agents) Category Are:
Tri-West Healthcare Alliance
Synchrony Financial
Alliance Data
Individual Metric Winners:
Effectiveness
Best Overall Customer Satisfaction Rating:
Best Overall Agent Satisfaction Rating:

Delta Dental of Wisconsin
Lowest Average Speed of Answer:

Humana Govt. Business Services
Best First Call Resolution Rate:

Delta Dental of Wisconsin
Efficiency
Highest Percentage of Calls Handled/Resolved in IVR:

Humana Govt. Business Services
Highest Calls per Agent per Hour:
Best Agent Retention (3-way tie):

Delta Dental of Arizona
Gallagher Benefit Services
Messa


---
Note: Would you like to participate? Those who wish to be considered for the 2023 honors should

click here

The contest participants were judged on 20 key Efficiency and Effectiveness performance indicators compared against those of all entrants in the Top Contact Center Contest. These include: average contact Handle Time, Calls per agent Per Hour, Agent Turnover and: Average Speed of Answer, Customer and Agent Satisfaction and Transfers etc.
"The award process is based on actual performance for 2021," stated Belfiore. "Recipients of the Top Contact Center Award have demonstrated, on a statistically objective basis, that they provide superior service and financial performance as compared with our entire Contest database. We congratulate them."
BenchmarkPortal only publishes the specific ranks for the top 3 in each category, most improved centers, and individual metric winners.
About BenchmarkPortal
BenchmarkPortal's activities began in 1995, and it is now a global leader in the contact center industry, providing benchmarking, certification, training, consulting and research. The BenchmarkPortal team of professionals has gained international recognition for its innovative approach to best practices for contact centers. BenchmarkPortal hosts the world's largest database of contact center metrics, which is constantly being refreshed with new data. BenchmarkPortal's mission is to provide contact center managers with the tools and information that will help them optimize their efficiency and effectiveness in their customer communications. For more information, please call 1-800-214-8929 or visit www.BenchmarkPortal.com