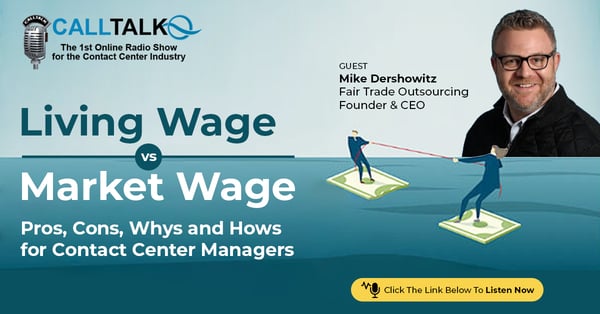 Join Bruce Belfiore as he talks with Mike Dershowitz about the market and corporate forces that push us to offer compensation based on market conditions, and about the human and political elements that push toward offering "living wage" compensation. Mike will build on concepts he first shared with us during his previous appearance on CallTalk ("Fair Trade Outsourcing: Ethical and Profitable") and will unpack the many issues surrounding the living wage issue. He will draw on his experiences managing centers in urban America and offshore sites. He will share his opinion that the $15 national minimum wage is not the right way to go to achieve living wage objectives. You will find this a lively but very practical, manager-focused discussion on economic justice, employee engagement and performance results in the contact center environment.
---
Air Date: Wednesday, Feb. 26, 2020 - 10AM/PT
Host: Bruce Belfiore | CEO & Senior Research Analyst | BenchmarkPortal
Guest Speaker: Mike Dershowitz | Fair Trade Outsourcing
Season: 11 | Episode Number: 1
---
---
Guest: Mike Dershowitz | Fair Trade Outsourcing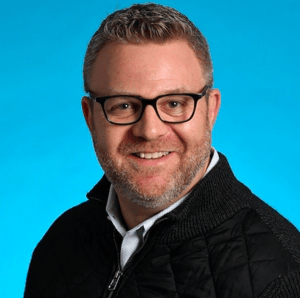 Mike Dershowitz is the founder and Chief Executive Officer of Fair Trade Outsourcing , a social enterprise in the business process outsourcing industry, with operations in the Philippines, Philadelphia, and West Africa.
Dershowitz invented Fair Trade Outsourcing to solve the chronic problems of high attrition and low quality, which focuses not just on what we can do for the agents INSIDE the workplace, but also by promoting economic and social progress OUTSIDE the workplace. The result is a superior customer service product.
Previously, Dershowitz founded the mobile banking team at JPMorganChase in 2006, introducing Chase's first consumer banking mobile products, including the first "Take a picture of a check" product brought to market in 2007.
Dershowitz earned his bachelor's degree in International Relations and Affairs from George Washington University. He believes in using business to promote social justice while seeking profits as a capitalist. Mike publishes regularly on Medium, writing extensively on how ethical business can cultivate positive social and economic impact for the poorest among us. He is a monthly columnist for Contact Center Pipeline Magazine.
Mike can be reached at mike@fairtradeoutsourcing.com.
---
CallTalk Host: Bruce Belfiore | BenchmarkPortal
Bruce Belfiore is a frequent speaker at industry events in the United States and abroad. Bruce is Chancellor of the College of Call Center Excellence, which provides certificated courses to call center professionals, and has taught the course "Call Center Management" at Purdue University. He is the author of the book Benchmarking At Its Best for Contact Centers and has written numerous research papers and best practices studies focused on contact center topics. He is a consultant to call centers in a wide variety of industries seeking to improve their results, and is noted for helping to calculate the financial impact of proposed changes. Bruce holds Bachelors, JD and MBA degrees from Harvard University.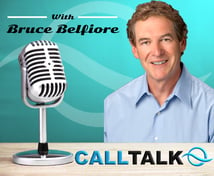 CallTalk is a monthly internet radio program for the customer service industry featuring the most innovative managers and thought leaders in the customer contact field, interviewed by BenchmarkPortal CEO, Bruce Belfiore. Broadcast monthly, directly over the Internet to your desktop, CallTalk covers hot topics that impact today's call center. CallTalk airs without the participation of vendors so that topics will be free from their influence and guided by the needs of its listeners. If you have a topic you would like us to cover, send it to CallTalk@BenchmarkPortal.com.