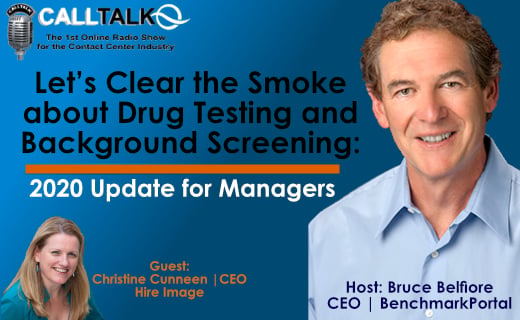 Join
Christine
Cunneen
, CEO of Hire Image, a nationally accredited background screening company, as she shares helpful information about the latest drug testing and background screening trends facing call centers. Christine provides her particular insight on the impact the COVID-19 virus is likely have on your ability to complete background checks, education checks as well as lab tests - - given the current dedication of lab resources to turning out Coronavirus test results.
---
Air Date: Wednesday, March 18, 2020 - 10AM/PT
Host: Bruce Belfiore | CEO & Senior Research Analyst | BenchmarkPortal
Guest Speaker: Christine Cunneen | Hire Image
Season: 11 | Episode Number: 3
---
---
Guest: Christine Cunneen | Hire Image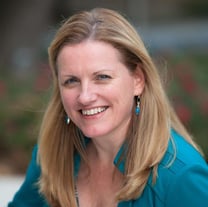 As CEO of Hire Image LLC, Christine Cunneen sets the company's vision and strategy while overseeing the operations, finance and business development functions nationwide.
Ms. Cunneen is the past chair of the National Association of Professional Background Screeners (NAPBS) and held leadership roles on the Global Advisory Council, Government Relations Committee, Advocacy Committee, Finance Committee and Ethics Committee for NAPBS. She is a member of the Society of Human Resource Management (SHRM) at both the national and local level. She is a director of the Rhode Island SHRM Board and serves on the Advocacy team, Legislative Committee and Sponsorship Committee. Cunneen served on the Executive Board of Directors and Governance and Finance Committees for Big Brothers Big Sisters of the Ocean State. She serves on her town's planning board and is a past Board member of her local Chamber of Commerce. She is proud to have been an Advisor to the Sue Weaver C.A.U.S.E. (Consumer Awareness of Unsafe Service Employment).
Ms. Cunneen is a frequent guest speaker at business, human resource and background screening association events throughout the U.S., educating employers and other professionals about background screening topics, and is often quoted for her expertise in the news media. On a regular basis, she travels to Washington, DC to meet with legislators and is active in campaigns and advocacy pertaining to laws and regulations that impact the background screening profession, business owners and small business entrepreneurs.
She is a 1990 graduate of Hofstra University (Hempstead, NY) where she received a bachelor of Business Administration degree in accounting. Prior to joining Hire Image, she enjoyed a 13-year financial career in New York as a certified public accountant specializing in taxation for such companies as Barnes & Noble and ING, and maintains her Certified Public Accountant designation.
Ms. Cunneen is a 2006 recipient of the "Make Mine a Million $ Business™" (M3) award from Count Me In™ and AMEX Open and, when breaking the $1M revenues barrier, credited the program for helping her achieve that goal and contributing to her growth and success. In 2016, Ms. Cunneen participated in the Goldman Sachs 10,000 Small Businesses program, as a member of the national cohort based out of Babson College. Ms. Cunneen continues to serve as a mentor to other women-owned business leaders across the country.
---
CallTalk Host: Bruce Belfiore | BenchmarkPortal
Bruce Belfiore is a frequent speaker at industry events in the United States and abroad. Bruce is Chancellor of the College of Call Center Excellence, which provides certificated courses to call center professionals, and has taught the course "Call Center Management" at Purdue University. He is the author of the book Benchmarking At Its Best for Contact Centers and has written numerous research papers and best practices studies focused on contact center topics. He is a consultant to call centers in a wide variety of industries seeking to improve their results, and is noted for helping to calculate the financial impact of proposed changes. Bruce holds Bachelors, JD and MBA degrees from Harvard University.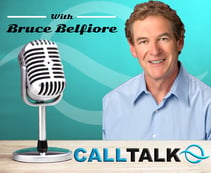 CallTalk is a monthly internet radio program for the customer service industry featuring the most innovative managers and thought leaders in the customer contact field, interviewed by BenchmarkPortal CEO, Bruce Belfiore. Broadcast monthly, directly over the Internet to your desktop, CallTalk covers hot topics that impact today's call center. CallTalk airs without the participation of vendors so that topics will be free from their influence and guided by the needs of its listeners. If you have a topic you would like us to cover, send it to CallTalk@BenchmarkPortal.com.