Are you implementing new contact center technology? Join us as we discuss tips and benefits on how to embrace the technology to transform the customer, employee and business experience by leveraging it within and beyond your department while promoting the benefits, results and successes throughout your organization.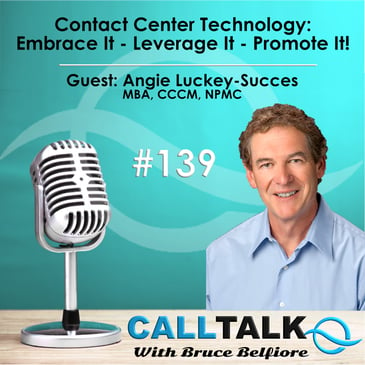 ---
Air Date: Wednesday, June 17, 2020 - 10AM/PT
Host: Bruce Belfiore | CEO & Senior Research Analyst | BenchmarkPortal
Guest Speaker: Angie Luckey-Succes
Season: 11 | Episode Number: 7
---
---
Guest: Angie Luckey-Succes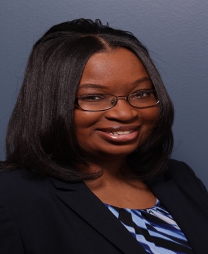 Angie Luckey-Succes has over 30 years of Customer Service and Call Center operations experience in both the public and private sectors supporting B2B and B2C accounts including everything from College Admissions, Healthcare Services, Scheduling, Retail, Telecommunications, and Water Management.
Her customer service experience spans the entire client experience journey including billing, customer retention, dispatch, logistics, order management and fulfillment, quality, sales, tech support, and work force management. Of particular importance to her topic today, she has worked with numerous contact center solutions including Aspect, Avaya, CISCO, Genesys, NICE inContact, IEX Totalview, RTA, Salesforce, Verint, Witness, Billing - Enterprise Resource Planning (ERP) systems (Agresso, Banner, CableData, CSG, Oracle, and SAP) and Electronic Health Record (EHR) Systems (Athena, Cerner, Epic, and Meditech). Angie is an early adopter which has led to her success in implementing call center Technology. Angie holds a B.A. in Business Management from DePaul University, an M.B.A from Purdue University and achieved a Professional in Human Resources Certification from DePaul University. In 2018, Angie received her certification in Contact Center Management from Benchmark Portal and she also holds a Masterclass Certification in Net Promoter.
Angie has held leadership positions at AMITA Health, AT&T, Career Education Corporation, Comcast, LANDAUER, NTT Data (City ofChicago)
---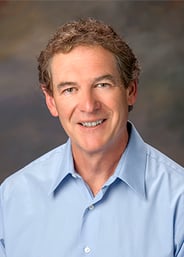 CallTalk Host: Bruce Belfiore | BenchmarkPortal
Bruce Belfiore is a frequent speaker at industry events in the United States and abroad. Bruce is Chancellor of the College of Call Center Excellence, which provides certificated courses to call center professionals, and has taught the course "Call Center Management" at Purdue University. He is the author of the book Benchmarking At Its Best for Contact Centers and has written numerous research papers and best practices studies focused on contact center topics. He is a consultant to call centers in a wide variety of industries seeking to improve their results, and is noted for helping to calculate the financial impact of proposed changes. Bruce holds Bachelors, JD and MBA degrees from Harvard University.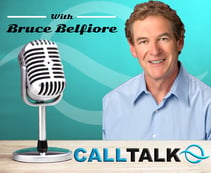 CallTalk is a monthly internet radio program for the customer service industry featuring the most innovative managers and thought leaders in the customer contact field, interviewed by BenchmarkPortal CEO, Bruce Belfiore. Broadcast monthly, directly over the Internet to your desktop, CallTalk covers hot topics that impact today's call center. CallTalk airs without the participation of vendors so that topics will be free from their influence and guided by the needs of its listeners. If you have a topic you would like us to cover, send it to CallTalk@BenchmarkPortal.com.